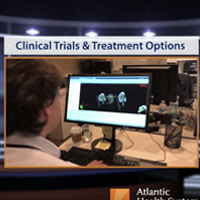 Groundbreaking cancer treatments previously unavailable in New Jersey are becoming more locally accessible. Atlantic Health System's Breakthrough Oncology Accelerator, the first of its kind in the country, speeds patient enrollment into clinical trials exploring immunotherapy, new medications and other innovations in the fight against cancer. Watch a special edition of AtlantiCast to learn more >
Cancer Programs and Screenings

Education and prevention can keep you and your loved ones healthy. We invite you to take advantage of the programs, support groups and screenings available. Adults 65 and older who are looking to stay well with age may benefit from events labeled "New Vitality."

Cancer Thriving and Surviving Workshop
Cancer survivors who have completed treatments and their caregivers will learn how to address common survivorship problems, such as frustration, fatigue, pain, isolation, poor sleep and living with uncertainty. This class is based on Stanford University's chronic disease self-management model and meets for six weeks.
Sponsor: Sussex Warren Chronic Disease Coalition
For more information, please call 908-387-9888 or 908-475-7960.
Cancer Articles