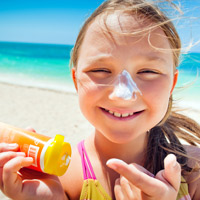 You may have heard that when purchasing sunblock, you should look for one that offers both UVA and UVB protection, but what does that really mean? UVA are long rays and can penetrate the deep layers of our skin, leading to premature aging and wrinkles over time. UVB, on the other hand, are short rays and responsible for the burns we receive on the surface of our skin after a day in the sun. So, slather on the right sunblock and you'll give yourself the greatest chance of keeping your skin healthy not only today, but also in the future. For more sun safety lessons, check out a recent episode of AtlantiCast >
Cancer Programs and Screenings
Education and prevention can keep you and your loved ones healthy. We invite you to take advantage of the programs, support groups and screenings available.
Cancer Thriving and Surviving Workshop
Cancer survivors who have completed treatments and their caregivers will learn how to address common survivorship problems, such as frustration, fatigue, pain, isolation, poor sleep and living with uncertainty. Our team of peer leaders will also discuss exercise tips, treatment decision-making, complementary therapies, effective communication tactics, nutrition and setting priorities. This free course, which is based on Stanford University's chronic disease self-management model, meets two-and-a-half hours per week for six weeks.
Sponsor: Sussex Warren Chronic Disease Coalition
For more information, dates and to register, please call 973-579-0370 x1233 or 908-387-9888.

Post-Treatment Cancer Support Group
Open to patients who have completed cancer treatment and their caregivers.
First Wednesday of every month; 10:00 to 11:30am or 5:30 to 7:00pm
Hackettstown Medical Center in the Joan Knechel Radiation Cancer Center Conference Room
Call 908-800-4308 to register.
Cancer Articles