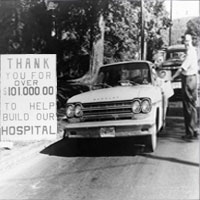 The late 1960s was a momentous time in American history, but those who lived in Hackettstown, NJ, probably remember it best for the Bucket Brigade that sought to build a local hospital. For three summers, residents lined the streets with buckets and raised $101,00 in donations from motorists passing through town. In honor of this past achievement, the Foundation for Hackettstown Medical Center is launching a Bucket Brigade II campaign, which plans to raise $715,000 (the equivalent of $101,000 today) by 2022 to support key hospital programs. Donors can submit a gift through our virtual bucket online or at hospital events.
Cancer Programs and Screenings

Education and prevention can keep you and your loved ones healthy. We invite you to take advantage of the programs, support groups and screenings available. Adults 65 and older who are looking to stay well with age may benefit from events labeled "New Vitality."

Cancer Thriving and Surviving Workshop
Cancer patients and caregivers will learn about various topics in cancer survivorship, including setting priorities, relationships, nutrition, coping techniques, exercise, treatment decision-making and communicating effectively.
Thursdays, through July 18; 4:00 to 6:30pm
(No meeting July 4)
Hackettstown Medical Arts Building, Center for Healthier Living
108 Bilby Road, Suite 101, Hackettstown, NJ
For more information, please call 908-475-7960.
Cancer Articles