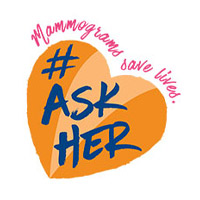 A simple question might be all it takes to save someone's life. Atlantic Health System is once again encouraging everyone to ask the women they care about to schedule their annual screening mammogram. Or, if you're a woman 40 and older, take the initiative and do it for yourself. New for this year is the ability to conveniently book an appointment online without a prescription from a provider. Early detection is the #1 tool in the fight against breast cancer, so schedule a mammogram now >
Cancer Programs and Screenings

Education and prevention can keep you and your loved ones healthy. We invite you to take advantage of the programs, support groups and screenings available. Adults 65 and older who are looking to stay well with age may benefit from events labeled "New Vitality."

Cancer Thriving and Surviving Workshop
Learn about various aspects of cancer survivorship, including exercise, complementary therapies, communication tactics, nutrition, making treatment decisions and setting priorities. This group meets two-and-a-half hours per week for six weeks.
Sponsor: Sussex Warren Chronic Disease Coalition.
For more information and dates, please call 908-475-7960.

Cancer Articles