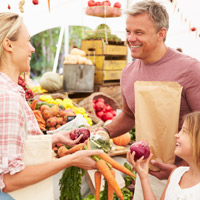 The farmer's market is your ticket to healthy eating this summer. According to Atlantic Health System dietitians, the time between when a fruit or vegetable is harvested and when you actually eat it impacts the content of its vitamins and minerals. For this reason, locally-grown produce that you can obtain at or right before prime ripeness offer greater nutritional value than imported foods. As an added bonus for families, farmer's markets expose kids to healthier snack options and teach them about the growing and harvesting process.
Read more >
Healthy Diet Programs and Screenings


Education and prevention can keep you and your loved ones healthy. We invite you to take advantage of the programs, support groups and screenings available.

How Your Digestive System Changes as You Age
A gastroenterologist will discuss what you can expect from your digestive system as you get older. Light refreshments will be served; pre-registration is required.
Thursday, July 12; 2:00 to 3:00pm
Heath Village Retirement Community Auditorium
430 Schooleys Mountain Road, Hackettstown, NJ
For more information or to register, call 1-844-472-8499.

Overeaters Anonymous
Learn about compulsive overeating and how to overcome it.
Sundays, 9:00 to 10:00am
Hackettstown Medical Center, First Floor, Conference Dining Room

Medical Nutrition Counseling
Individual sessions are available by appointment at Hackettstown Medical Center. For more information and to schedule an appointment, call 908-441-1482.
Healthy Diet Articles