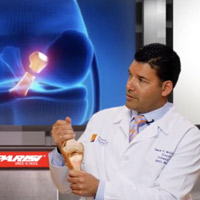 Don't let a twisted ankle or pulled hamstring derail your 2018 fitness goals. Atlantic Sports Health, in partnership with the Parisi Speed School, recently launched a series of videos that provide in-depth explanations of injuries common to athletes and how to prevent them. Each episode features one of our sports medicine experts discussing a different topic, such as anterior cruciate ligament (ACL) tears, concussions, ankle injuries and more. Watch now >
Exercise/Fitness Programs and Screenings


Education and prevention can keep you and your loved ones healthy. We invite you to take advantage of the programs, support groups and screenings available.

Chair Exercises for Older Adults
This three-class series can help improve stamina and strength. Each participant will receive an exercise manual and exercise ball for use at home.
Mondays, April 9, 16 and 23; 9:00 to 10:30am
108 Bilby Road, Suite 101, Hackettstown, NJ
For more information and to register, please call 908-850-6935.

Get Fit Exercise Program
Learn workouts that may improve your physical fitness and overall health.
Hackettstown Medical Center, Therapy Department, Suite 1700
For a schedule and to register, please call 908-441-1348.
Exercise/Fitness Articles