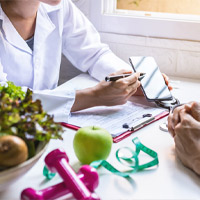 Workouts are often derailed by a lack of time or motivation. Atlantic Health System's fitness assessment can help you determine if your daily routine includes enough physical activity to support a healthy lifestyle. You'll also learn tips for beginning or maintaining a successful exercise program on a busy schedule. Take the fitness assessment >
Exercise/Fitness Programs and Screenings
Education and prevention can keep you and your loved ones healthy. We invite you to take advantage of the programs, support groups and screenings available. Adults 65 and older who are looking to stay well with age may benefit from events labeled "New Vitality."
New Vitality: Shake It Up
Older adults can learn low impact, low intensity exercises that focus on improving stamina, flexibility, balance and strength.
Mondays and Thursdays, 2:00 to 3:30pm
Hackettstown Medical Arts Building, Center for Healthier Living
108 Bilby Road, Suite 101, Hackettstown, NJ
Please call 1-844-472-8499 for pricing and availability.

"Move Right" Program
This comprehensive medical fitness program is designed for families and adults with obesity, diabetes or hypertension.
Hackettstown Medical Center, Rehabilitation Department
For more information and to make an appointment, please call 908-441-1348.

Exercise/Fitness Articles