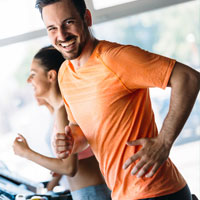 Maintaining an active lifestyle can help prevent or manage chronic diseases and improves overall health. Find out if you're doing all that you can to make your body feel and look its best by taking a short fitness health assessment. If you're not currently exercising, you'll discover how to safely start and improve your strength and endurance over time. If you are active, you'll learn tips for sticking to your routine, even when busy, and ensuring that your approach is well rounded. Take the quiz now >
Exercise/Fitness Programs and Screenings


Education and prevention can keep you and your loved ones healthy. We invite you to take advantage of the programs, support groups and screenings available.

Shake It Up
Older adults can learn low impact, low intensity exercises that focus on improving stamina, flexibility, balance and strength.
Fee: $4 per person per session; first session is free
Mondays and Thursdays, 2:00 to 3:15pm
Hackettstown Medical Arts Building, Center for Healthier Living
108 Bilby Road, Suite 101, Hackettstown, NJ
For more information and to register, please call 1-844-472-8499.

Get Fit Exercise Program
Learn workouts that may improve your physical fitness and overall health.
Hackettstown Medical Center, Therapy Department, Suite 1700
For a schedule and to register, please call 908-441-1348.
Exercise/Fitness Articles