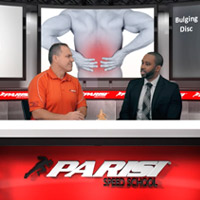 Whether you're doing heavy squats in the gym or just going about your daily routine, chances are you're going to experience back pain at some point in your life. This is most commonly the result of a bulging or herniated disc and although symptoms worsen with age, its progression can be slowed or even prevented. Sports medicine experts at Atlantic Sports Health recommend daily stretching and low-impact exercises, such as yoga or Pilates, to strengthen the lumbar region of the spine. Watch a video to learn more >
Exercise/Fitness Programs and Screenings
Education and prevention can keep you and your loved ones healthy. We invite you to take advantage of the programs, support groups and screenings available. Adults 65 and older who are looking to stay well with age may benefit from events labeled "New Vitality."

New Vitality: Shake It Up
Older adults can learn low impact, low intensity exercises that focus on improving stamina, flexibility, balance and strength.
Fee: $4 per person per session
Mondays and Thursdays, 2:00 to 3:15pm
Hackettstown Medical Arts Building, Center for Healthier Living
108 Bilby Road, Suite 101, Hackettstown, NJ
For more information, please call 1-844-472-8499.

Get Fit Exercise Program
Learn workouts that may improve your physical fitness and overall health.
Hackettstown Medical Center, Therapy Department, Suite 1700
For a schedule and to register, please call 908-441-1348.
Exercise/Fitness Articles