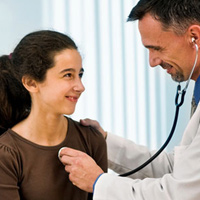 There are nearly half a million children in the United States with active epilepsy. If your child is one of them or suffers from undiagnosed seizures, finding the right treatment early on increases his or her chances of leading a normal life. Goryeb Children's Hospital has a Level 4 Epilepsy Center – the highest designation achievable – that offers all of the latest treatments, including medications, Ketogenic diets, neurosurgery and clinical trials. Sometimes epilepsy is caused by a brain tumor, in which case, we'll refer you to our multidisciplinary team of pediatric brain and spine tumor specialists. They're trained in a variety of neurosurgical procedures, including minimally invasive techniques that shorten recovery times. Learn more about pediatric epilepsy and brain and spine tumors >


Pediatrics Programs and Screenings
Education and prevention can keep you and your loved ones healthy. We invite you to take advantage of the programs, support groups and screenings available.
Prepared Childbirth Classes
This Lamaze-type class focuses on breathing, relaxation and labor techniques.
Fee: $130
Saturday, September 7; 8:30am to 3:30pm
Newton Medical Center, 175 High St, Newton, NJ
For more information and to register, please call 1-800-247-9580.

Breastfeeding
Learn about proper positioning, nutrition and breastfeeding health benefits for mom and baby. We'll also discuss how to avoid common problems.
Fee: $40
Tuesday, September 10; 6:30 to 9:00pm
Hackettstown Medical Center
For more information and to register, please call 1-800-247-9580.

13th Annual Hackettstown Community Day
Meet Hackettstown Medical Center health professionals and learn about all the services provided by our hospital. Health screenings, giveaways and other family-friendly activities will also be available.
Saturday, October 5; 11:00am to 3:00pm
Hackettstown Medical Center, 651 Willow Grove Street, Hackettstown, NJ
Learn more >

Project SEARCH
High school students age 18 to 21 with significant disabilities learn career and independent living skills. Interns in our program receive competitive employment for 16 hours per week or more at a prevailing wage. Enrollment is now open for September 2019.
For more information or to enroll your child, please call 973-579-9680.
Pediatrics Articles