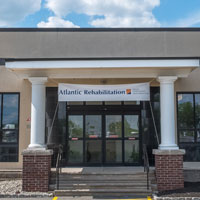 Our address might be new, but the high-quality care you've relied on to get you back on your feet after an orthopedic or neurological injury remains the same. Atlantic Rehabilitation's comprehensive, outpatient physical rehabilitation services at Mount Kemble Avenue in Morristown, NJ have moved to a new location at 6 Saddle Road in Cedar Knolls, NJ. This includes audiology, physical therapy, occupational therapy and speech therapy. We're open Monday through Friday, 7:00am to 7:00pm; call us at 973-971-4451 or request an appointment online >
Rehabilitation Programs and Screenings





Education and prevention can keep you and your loved ones healthy. We invite you to take advantage of the programs, support groups and screenings available. Adults 65 and older who are looking to stay well with age may benefit from events labeled "New Vitality."



New Vitality: Total Knee and Hip Replacement
Learn the reasons for total knee and total hip replacement and the process doctors use to determine if you're a candidate.
Wednesday, July 31; 10:00 to 11:00am
Hackettstown Medical Arts Building, Center for Healthier Living
108 Bilby Road, Suite 101, Hackettstown, NJ
For more information and to register, please call 1-844-472-8499.
Rehabilitation Articles