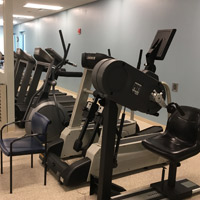 Hackettstown Medical Center's physical rehabilitation services, part of Atlantic Rehabilitation, recently relocated to a new space offering expanded care for our patients. Physical, occupational and speech therapy, as well as cardiac and pediatric rehabilitation are now available on the fourth floor of our hospital in a newly-renovated facility with spa-like amenities. In addition, we continue to offer innovative forms of therapy, such as Redcord, which can improve muscle strength and stability in patients of all ages, sizes and physical ability levels. Read more >
Rehabilitation Programs and Screenings


Education and prevention can keep you and your loved ones healthy. We invite you to take advantage of the programs, support groups and screenings available.
Total Hip and Knee Replacement
Learn reasons why you may need a joint replacement and what to expect from the day you decide to have the surgery through rehabilitation.
Tuesday, November 13; 11:00am to 12:30pm
Hackettstown Medical Arts Building, Center for Healthier Living
108 Bilby Road, Suite 101, Hackettstown, NJ
For more information or to register, call 1-844-472-8499.
Rehabilitation Articles
MONDAY, Sept. 17, 2018 -- True to its storm-of-the-century hype, Hurricane Florence pounded the Carolinas with historic rainfall and catastrophic flooding -- and continuing danger looms in its wake.

Infection and injury are the big threats as cleanup begins, and experts say it's important to be smart as you tackle the dirty work.


Read more