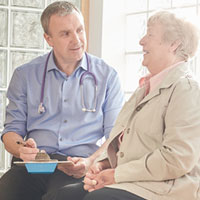 Don't miss your opportunity to have health care coverage with a Medicare Advantage plan in 2018. Now through December 7, New Jersey residents who live in Northern NJ* and subscribe to Medicare can enroll in the NNJ Aetna Medicare Prime Plan HMO. Atlantic Health System participates in this plan, as well as several other Medicare health plans.
Watch a video that explains how Aetna Prime works >
*The NNJ Aetna Medicare Prime Plan is available to Medicare subscribers in the following counties: Hunterdon, Morris, Passaic, Somerset, Sussex, Union and Warren.
Women's Health Programs and Screenings
Education and prevention can keep you and your loved ones healthy. We invite you to take advantage of the programs, support groups and screenings available.
Technology for Seniors
Students from Hackettstown High School will provide one-on-one instruction in how to use cell phones, tablets and computers.
Wednesday, December 13; 10:00 to 11:00am
Hackettstown High School, 599 Warren Street, Hackettstown, NJ
For more information and to register, please call 908-850-6935.

Smoking Cessation Program
Learn how to quit smoking over the course of six weeks with the help of a certified tobacco treatment specialist. Those interested must complete a smoking assessment in order to participate. Space is limited; please call for dates.
5:00 to 6:00pm
Hackettstown Medical Center, 1st Floor, Conference Dining Room
For more information and to register, please call 908-979-8797.

Multiple Sclerosis Support Group
Adults with multiple sclerosis can receive education and mutual support. Registration is not required.
Second Monday of every month, 7:00 to 9:00pm
Hackettstown Medical Center, First Floor, Gene C. Milton Conference Room

The Arc of New Jersey
Adults with intellectual and developmental disabilities can receive education and mutual support.
Third Thursday of every month, 6:00 to 7:00pm
Hackettstown Medical Center, First Floor, Gene C. Milton Conference Room

Overeaters Anonymous
Learn about compulsive overeating and how to overcome it.
Sundays, 9:00 to 10:00am
Hackettstown Medical Center, First Floor, Conference Dining Room

Shake It Up
Older adults can learn low impact, low intensity exercises that focus on improving stamina, flexibility, balance and strength.
Fee: $4 per person per session; first session is free
Mondays and Thursdays, 2:00 to 3:15pm
Hackettstown Medical Arts Building, Center for Healthier Living
108 Bilby Road, Suite 101, Hackettstown, NJ
For more information and to register, please call 908-850-6925.

Get Fit Exercise Program
Learn workouts that may improve your physical fitness and overall health.
Hackettstown Medical Center, Therapy Department, Suite 1700
For a schedule and to register, please call 908-441-1348.

Family Education Series on Addiction
Those struggling with substance abuse and their families can learn about addiction and receive counseling to improve their quality of life.
Mondays, 6:00 to 7:30pm
Hackettstown Medical Center's Counseling and Addiction Center
112 East Avenue, Unit 9, Hackettstown, NJ
For more information and to register please call 908-850-6810.

Fall Risk Screening
Receive a balance screening and learn ways to improve your stability and prevent falls. Appointments are required.
Second Wednesday of every month, Noon to 1:00pm
Hackettstown Medical Center, Therapy Department, Suite 1700
For more information and to make an appointment, please call 908-850-6925.

Look Good Feel Better
Women will learn how to maintain their appearance during cancer treatments.
Hackettstown Medical Center, Joan Knechel Cancer Center
Please call 1-800-227-2345 for dates and times.

Basic Life Support and First Aid
See a list of available classes and register online >
Women's Health Articles