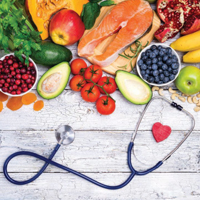 Finding new ways to eat healthy doesn't have to be a tough nut to crack. Just grab yourself a handful of walnuts, almonds or pistachios and you'll be well on your way to improving your heart. Over time, these snacks can help lower cholesterol, reduce the buildup of plaque in the arteries and prevent blood clots. Try eating nuts a few times a week to reap the greatest nutritional benefit. For other heart-healthy foods, check out the latest issue of AtlanticView >
Blood Pressure Programs Screenings


Healthy Hearts
Cardiologists, medical staff and other guest speakers will address a variety of heart health topics. Anyone with a cardiac disease, such as congestive heart failure, high blood pressure or coronary artery disease, is welcome to attend.
First Wednesday of every month, 12:30 to 1:30pm
Hackettstown Medical Center, 1st Floor, Conference Dining Room
For more information and to register, please call 908-850-6819.

Medical Nutrition Counseling
Individual sessions are available by appointment at Hackettstown Medical Center. For more information and to schedule an appointment, call 908-441-1482.
Blood Pressure Articles