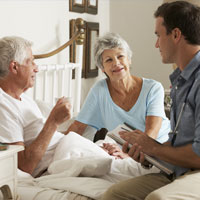 If you're 65 or older and aren't sure if you can afford visiting nurse or rehabilitation services in your home, you may have options. Medicare will pay for short-term, intermittent skilled care from a certified home care agency, such as Atlantic Home Care. To qualify, you must have a physician order, be home-bound and have a condition requiring the skills of a nurse, physical therapist, occupational therapist or speech therapist. Medicare may also cover medical social work services, which can help you obtain community resources, a nutritionist or certified home health aide. Atlantic Home Care will verify your insurance coverage for you and will make the referral process as easy as possible. Call us at 973-379-8472 today.
Stroke Programs and Screenings

Stroke: What You Know May Save A Life
A registered nurse will explain stroke risk factors and prevention, as well as how to recognize symptoms and respond appropriately.
Tuesday, July 16; 6:00 to 7:00pm
Hopatcong Community Resource & Wellness Center
47 Hopatchung Road, Hopatcong, NJ
For more information and to register, please call 1-800-247-9580.
Stroke Articles