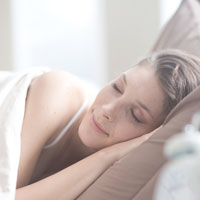 If you are scheduled for an overnight sleep study in a sleep center, you may be wondering what to expect. At Atlantic Health Sleep Centers, all our sleep testing rooms mimic hotel suites, complete with a full-size bed, reclining chair, cable television and on-suite bath with shower. On the day of your appointment, you will be asked to arrive in the evening, so our sleep technicians can prepare you for the study. Read more.



Sleep Disorders Programs and Screenings
Education and prevention can keep you and your loved ones healthy. We invite you to take advantage of the programs, support groups and screenings available. Adults 65 and older who are looking to stay well with age may benefit from events labeled "New Vitality."
Sleep Center
Learn about snoring, sleep apnea and other potentially serious sleep disorders. A question and answer session and oral examinations are included. Registration is required.
Hackettstown Medical Center, 3rd Floor, Sleep Center
For more information and to register, please call 908-850-7744.
Sleep Disorders Articles