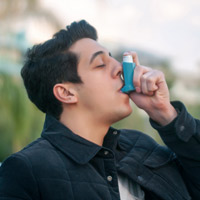 Everyday tasks can seem daunting or even impossible when you have trouble breathing, but you don't have to face these challenges alone. Hackettstown Medical Center offers a support group called Better Breathers, where patients can share personal experiences, breathing exercises and tips for controlling flare-ups in a relaxed, caring environment. Light refreshments are served and family members are welcome to attend. The group meets on the second Thursday of every month at

12:30pm

at our hospital. For more information, please call

908-979-8797.
Asthma Programs and Screenings
Education and prevention can keep you and your loved ones healthy. We invite you to take advantage of the programs, support groups and screenings available. Adults 65 and older who are looking to stay well with age may benefit from events labeled "New Vitality."

Better Breathers Club
Patients with lung diseases, such as asthma and chronic obstructive pulmonary disease (COPD), can share personal stories and hear from guest speakers on how to better manage their conditions.
Second Thursday of every month; 12:30 to 1:30pm
Hackettstown Medical Center, 1st Floor, Conference Dining Room
For more information and to register, please call 908-979-8797.
Asthma Articles