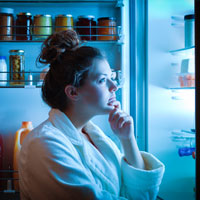 Eating unhealthy meals can contribute to chronic diseases, like heart disease and diabetes, and may even increase your risk for certain cancers. Find out if your dietary habits are helping or hurting your long-term health by taking a short health assessment. You'll receive an explanation of your individual risks, recommended steps to reduce them and additional resources for reading. Take the quiz now >

Diabetes Programs and Screenings
Education and prevention can keep you and your loved ones healthy. We invite you to take advantage of the programs, support groups and screenings available.
Lifestyle Changes for Prediabetes and Diabetes Management
Learn how you can prevent, postpone or manage diabetes. Pre-registration is required.
Wednesday July 18; 4:30 to 6:00pm
Thursday, August 9; 11:00am to 12:30pm
Hackettstown Medical Arts Building, Center for Healthier Living
108 Bilby Road, Suite 101, Hackettstown, NJ
For more information or to register, call 1-844-472-8499.
Diabetes Self-Management Educational Series
Individuals who have already been diagnosed with diabetes can learn about the disease process, medication options, blood glucose monitoring, nutrition management and exercise.
Wednesdays, August 15, 22 and 29; 10:00am to Noon
Hackettstown Medical Center, Hackettstown, NJ
For more information and to register, call 908-979-8848.
Diabetes Support Group
Those with diabetes can learn more about their condition, while sharing information and encouragement with others.
Fourth Monday of every month, 7:00pm
Hackettstown Medical Center, 1st Floor, Gene C. Milton Conference Room
For more information and to register, please call 908-979-8848.

Medical Nutrition Counseling
Individual sessions are available by appointment at Hackettstown Medical Center. For more information and to schedule an appointment, call 908-441-1482.
Diabetes Articles