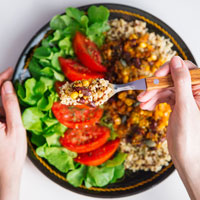 All diets rich in vegetables are not created equal. Sure, you can make the commitment to a vegetarian or vegan lifestyle, but a plant-based diet can be as simple as having a meatless meal once or twice a week according to
Atlantic Health System nutritionists
. If that still seems daunting, try preparing dishes with a smaller piece of beef or pork and larger portions of leafy greens. Experiment with different methods of cooking, such as grilling or roasting, to enhance texture and unlock flavors in fruits and vegetables you once thought unappealing.
Read more and find a healthy quesadilla recipe >


Diabetes Programs and Screenings

Education and prevention can keep you and your loved ones healthy. We invite you to take advantage of the programs, support groups and screenings available. Adults 65 and older who are looking to stay well with age may benefit from events labeled "New Vitality."

Diabetes Self-Management Educational Series
Learn how to live a healthy life managing diabetes with medication, monitoring, nutrition and exercise.
Wednesdays, August 14, 21 and 18; 10:00am to Noon
Hackettstown Medical Center
For more information and to register, call 908-979-8848.

Diabetes Support Group
Those with diabetes can learn more about their condition, while sharing information and encouragement with others.
Fourth Monday of every month, 7:00pm
Hackettstown Medical Center, 1st Floor, West Wing Conference Room
For more information and to register, please call 908-979-8848.

Medical Nutrition Counseling
Individual sessions are available by appointment at Hackettstown Medical Center. For more information and to schedule an appointment, call 908-441-1482.
Diabetes Articles